Chatbot Course: $248,949 in 7 months with a 4-Page Funnel
This case study is about a Chatbot Course. 
A course priced at $597 with an upsell of $750 (which is a group coaching).
The story begins when me and my client (who's a good friend of mine), were talking about the services that we offer on our agencies.
I got to know about Facebook Chatbots for the first time from him.
I did know about it but the fact that it could even be sold to businesses as a service was an interesting concept.
He had a lot of experience in building chatbots and he's worked with multiple 6 figure brands.
He was highly interested in launching a program of his own where he could teach people about chatbots. 
When I gave him an offer where I said I'd help him set up his course and market it; his primary concern was that he does not want a process that needs a lot of manpower and which consumes a lot of his time because he had his Agency to manage.
…and having a course would be a hassle if not structured properly.
Later, he gave me the green light to go ahead when I showed him that it's possible to completely automate the funnel.
I started building his funnels.
But before that…
A freebie is a super important thing when it comes to mid ticket courses, so we HAD to build one.
He recorded a 45 minute training and we used that as a FREEBIE. 
And we linked the freebie training with the sales page you see below.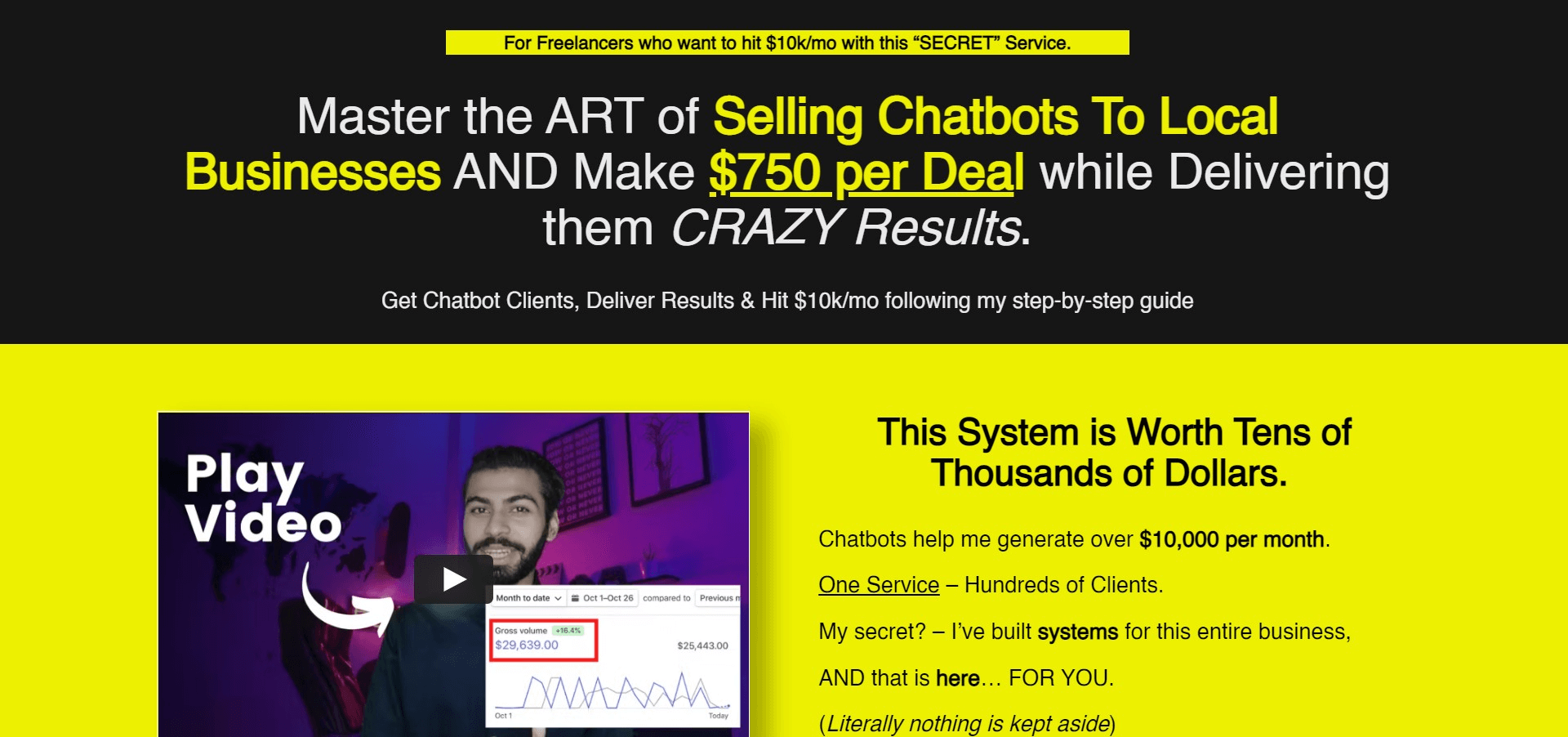 This page is made in Divi, WordPress.
He does the selling in his training. In the 45-minute training he talks about the concept of chatbot and adds a lot of value there.
That's a FREE training by the way!
So he does the selling by the end of the training.
So to put it in a proper structure, here's how the entire funnel looks like: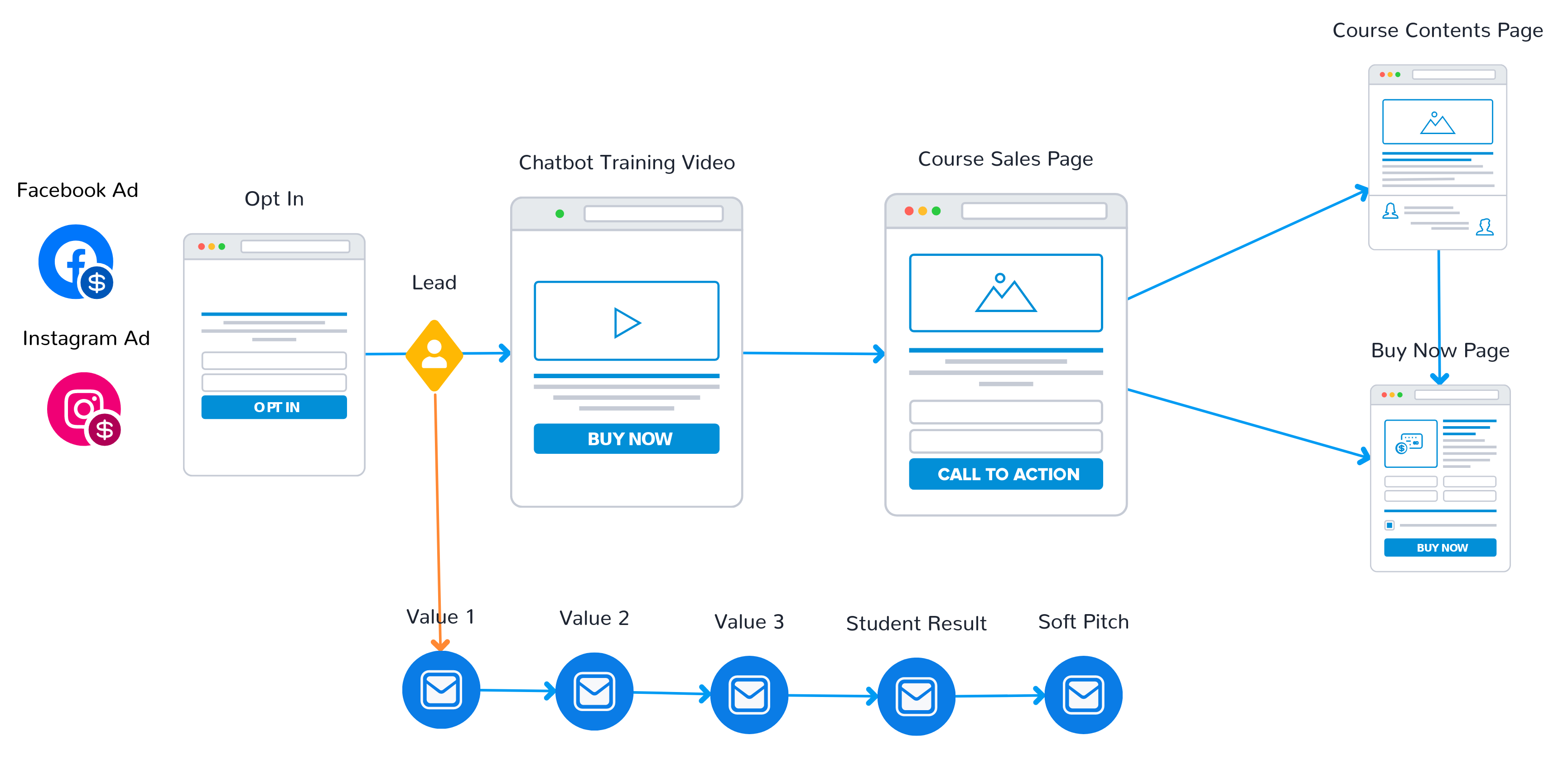 I made the COURSE CONTENTS page just because he does not want his prospects to ask about his course again and again.
Whatever value (contents) his students would be getting inside the course was listed on that page,
…module by module!
Once the pages were ready, we launched the Course.
The course was priced ₹3,499.
So, the results?
We did around ₹1.4lac in sales in the first month!
…and we spent around 35k on ads.
As of now, he's doing around 10k in sales per day…. almost consistently!
We could have easily scaled the course from ₹10k a day to ₹100k a day!
…but he does not want to go aggressive on it.
He's keeping it slow, and nurturing his students in a personalized way on his private group.
The most insane fact is, as of now, there's only 2 ads running for cold audience on Facebook, with a budget of ₹700 each! (+₹500 for retargeting)
It's almost ₹2000 in and ₹10,000 out.
…of course, there's days when he makes half of it, and at times also makes more than ₹15k.
So this is how we build the entire funnel.
Hardly 5 pages and makes ₹10k a Day!
One of the prime reasons why the is course is selling well is, because the is offer is super irresistible.
His course is priced at 3499 which is way below the average cost of a course of that industry.
This chatbot thing is unique and something that would mostly be talked about in the future.
A good offer with a proper structured funnel is all you need!
Need Some Help?
Book a 30-Minute Consultation Call where we'll help you crush it with your Funnel. 
Book a Free Call